Optimized for Speed
Perl based CGI scripts can be slow. A busy site based on Perl and CGI can slow down or crash a web server.
With this in mind, we designed the CGI Download Manager to optimize speed. To do so, we minimized the need to run the script itself. The diagram below shows how we did this: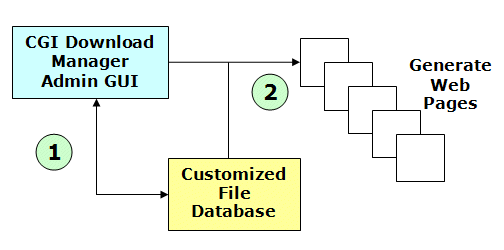 The heart of the system is the Admin Interface. In the Admin Interface the user does all of the work:
Creating file records,
Organizing and categorizing files
Fixing broken links,
Uploading files,
etc.
The user working in the Admin Interface is represented by (1) on the diagram above. Here the user is adding to and managing data in the script's customized file database.
Once the user has finished their work, they then click the Generate Web Pages button in the Admin Interface. When the user clicks Generate Web Pages - the CGI Download Manager creates the actual download pages of your web site. This step is shown by (2) on the diagram. Here the script takes the data in the cusomized file database and uses it to generate all of the pages for each category of files and each file itself.
The pages the script creates are static HTML files. (Note: The script can be configured to create ANY type of page, PHP, JSP, ASP, etc.) The web server can serve these static HTML files far faster than it can execute a CGI Script. That is why we chose this approach. It offers the best performance possible.